We're Getting Mutants in the MCU - The Loop
Play Sound
Bob Fleming is a character in the BBC sketch show the Fast Show, played by Charlie Higson. He lasted throughout the whole series, something which not many characters did.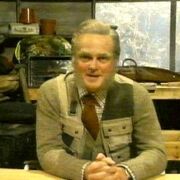 Bob is the aging, genial host of Country Matters, an afternoon television programme about life in the countryside of England. He presents the programme mainly from his garden shed, but is sometimes seen out and about, pursuing country interests such as fishing and Morris dancing. He also has several reporters and guests on the show who discuss country topics and bring in things to show Bob.
However, Bob has a slight problem: he has a terrible cough which often prevents him from performing pieces on the show. It begins as a slight tickle in his throat, and gradually advances to a loud, avuncular hack, rendering him speechless and often resulting in unfortunate accident; for example, falling into a river or knocking over vases. He is, however, unaware that his coughing is as bad as it is and is causing so many problems. His director, Nick, often has to point out this too him and, one time, handing him cough medicine, which Bob did not know existed. It cured Bob's cough but had an equally afflicting side effect; it made him break wind.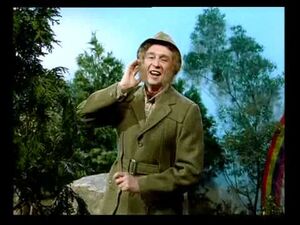 Bob's friends and show contributors have similar conditions: there is sneezing Clive Tucker, hiccuping Murtagh Blethlyn and Jed Thomas, who inadvertently says 'ARSE!' every few words, presumably from Tourette's Syndrome. In 1996, Bob released a CD, 'Bob Fleming's Country Favourites', featuring some of your best loved folk classics, sung by Bob and his friends. These included Tucker's rendition of 'Scarborough Fair', 'Froggie Went-a-Courtin' by Bob, and Clive's 'All Around My ARSE!' It concluded with a group rendition of 'The Wild Rover', with a chorus of coughing, hiccuping, sneezing and 'ARSE!'
The BBC finally lost patience with Bob, and in 2000 Country Matters was cancelled after forty years on the air. Bob was joined on his final show by Harold Larbie, who intermittently shouted 'ARF! ARF! ARF! COCKSUCKER!' However, Bob was unable to carry on and was overcome with emotion, despairing at the fact that none of his friends had turned up. Then, suddenly, Jed, Clive and a woman named Clarissa with a flatulence problem came on with a cake and a vase to commemorate Bob, who had been 'the voice of the countryside for an entire generation'. However, due to the quintet's afflictions, the vase was broken and the cake splattered into Bob's face.