Colin Hunt was a character in the BBC sketch show the Fast Show. Played by Charlie Higson, Colin was introduced in the fourth episode of series two and remained through to the end of the series.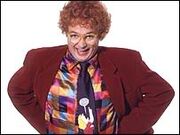 Colin lives in Chiswick, London and works in resources management at the local council. He is a typical 'office joker', constantly making unfunny pranks and comments that he thinks are witty and wonderful, but in reality, all he does is annoy and frustrate everyone around him (except his work colleague Doreen, for whom Colin has a great deal of affection.)
He is shown in various social situations; at a party, at work, in the pub, out on the street, and in his living with Doreen, 'taking' her to the Seychelles on a flight simulator in his computer. In the 'Last Fast Show Ever', Colin was told by his boss that he had been fired from his job. He protested, proclaiming that the job was his life, pleading that they sack Doreen or his fellow colleague, Geoff. He also insulted the boss, threatening to reveal that he had sex with that 'silly green-haired woman'. He then walked out of the office, only to see his colleagues wearing party hats and holding a banner saying, 'The joke's on you', and revealing it was an April Fools' joke.
Colin was used by the Fast Show team, like many characters, for the effect of pathos. He was shown as a socially inept character who covered for this by trying to be funny. He is a parody of people who are similar to this and who quote their favourite comedies because they cannot think of anything else to say. Higson himself said, 'I think there's a Colin Hunt in every office in the country'. He also had a distinctive appearance; he wears a bright orange wig, glasses, a maroon blazer, a multicoloured shirt and a Homer Simpson tie. Higson said he based his appearance on a boy he knew at school.